Burger Ordering System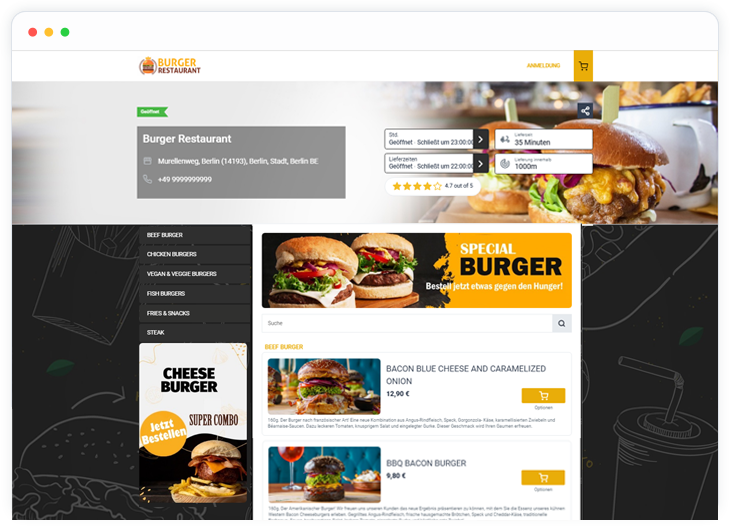 Let your customers order a burger on your online ordering system and mobile app. 
Launch a burger order online system to get new customers
If you offer food delivery in your burger restaurant, an ordering system is a must. Sell burgers online via your website to reach more customers and boost your revenue!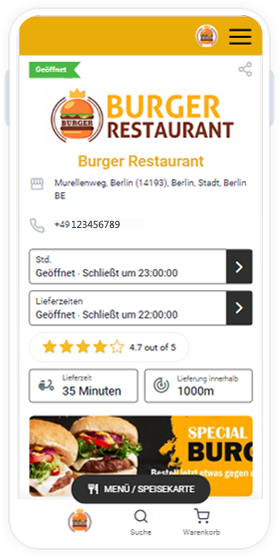 More burger orders with the mobile application
Make ordering through mobile devices easier than ever. Give your customers access to the native restaurantmobile app with the burger online order feature. Grow your customer base and revenue.
Easy burger orders handling
Are your phone line bottlenecked during rush hours? Forget about having this problem - digitalize the ordering process and let customers order burgers conveniently on your native website or app.Your employees will save plenty of time as details of burger orders are transferred instantly. All information regarding delivery or pick up is visible on the order handling panel within seconds.
Manage food delivery zones with ease
When offering food delivery services, it is essential for you to set appropriate delivery zones as well as transport costs and minimum order value. With the Foodemp system, you get easy to use delivery zone set up tool. Choose location and draw on the map to set areas where you deliver your delicious burgers.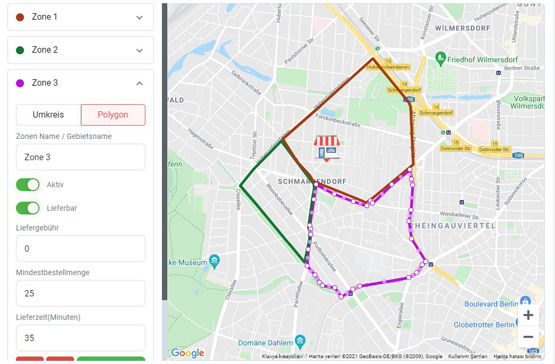 Let your customers pay online
The burger ordering system supplied by Foodemp is integrated with online payments. Thanks to this, you will earn customers that prefer to make cashless transactions. Thanks to this, you will earn customers that prefer to make cashless transactions. Let customers pay for burgers digitally thanks to integration with the most popular payment methods.
Printing orders
The Foodemp system houses automatic receipt print feature to save even more time for you, your customers and employees. Automate your burger restaurant to reach even better return on investment rate.
All reports in one place
The Foodemp system will generate reports automatically which present the key data regarding online sales ensuring you will be able to make business decisions based on actual data.
Ready to see more?
Need an online ordering system for your restaurant to receive online orders? 
Contact Now